About Us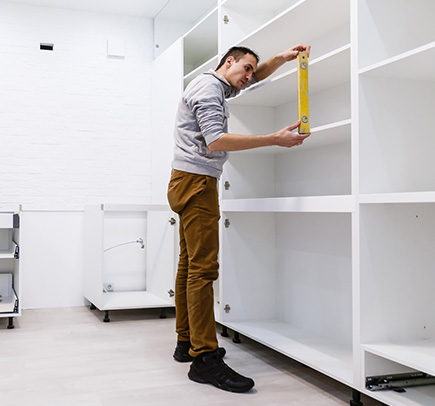 Cabinet Reface Direct Is a Manufacturer and Installer of Cabinet Refacing Products
Cabinet Reface Direct is a nationally recognized cabinet refacing manufacturing company offering residential and commercial cabinet refacing services for homeowners and businesses in the Northeast. Our highly trained and certified Cabinet Reface Direct installers provide expert recommendations and deliver quality service because we never subcontract our work. The owners collectively have over 30 years of experience in the home services space and love to help their customers realize their dream of having a beautiful kitchen and bathroom at an affordable price. We treat you as we want to be treated when having work done in our home, so come join our many happy customers to see the Cabinet Reface Direct difference.
Save Money and Time
Whether it's the cabinets in your kitchen, storage cabinets in a school classroom, or a vanity in a master bathroom, cabinets may begin to go out of style or show signs of wear over the years. If you or the original designer invested wisely in a quality cabinet during installation, they're likely fine other than some cosmetic issues. So why go through the expense and arduous process of removing and installing completely new cabinets? We're here to let you know you don't have to. We'll save you money and time, and we'll all be lessening waste going into landfills by only replacing the visible portions of your cabinets while the solid sides and backs stay in place.
A Simple Process for Beautiful Cabinets
So, what does a cabinet refacing entail? It's not a refinishing job. We give the front of the cabinets a total makeover in your choice of finish. We use nothing but the highest quality products, all of which are made right here in the state of New York. Any exposed sides and fronts of the remaining cabinetry will be finished to match the new look. Your refacing includes:
Doors
Drawer fronts
Hinges
Pulls
Knobs
Brackets
helping clients
is our #1 priority



Your Cabinet Refacing Specialists
Contact Cabinet Reface Direct for professional cabinet refacing in the Northeast. We offer the convenience of professional installation of all refacing parts, or we'll train your staff on how to prepare cabinet boxes and complete your own installation. Are you a contractor interested in learning a new skill and adding to your service offerings?
Contact us
to learn more about how you can become a professional cabinet refacing specialist in your area. Give us a call today.