Commercial Cabinet Refacing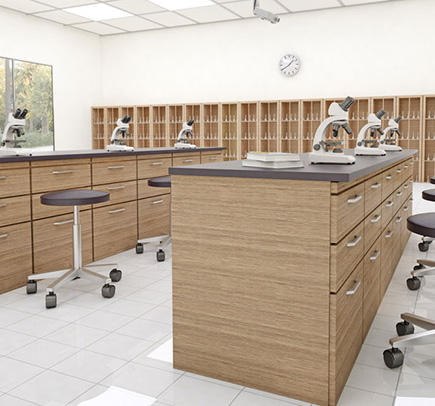 Complete Cabinet Refacing for Commercial Businesses
Commercial businesses looking for a hassle-free and affordable option to update cabinetry can rely on Cabinet Reface Direct for high-quality results. We offer a fast turnaround for businesses in all industries looking to replace tired, worn-out, or outdated cabinets without the need to remove or fully replace existing fixtures. Refacing cabinets and vanities are an economical and time-saving alternative to traditional replacement, taking only a fraction of the time and expense. We guarantee a fantastic product with parts made by Cabinet Reface Direct right here in your local area. Contact us today to schedule a consultation.
Why Reface Your Existing Cabinets?
In commercial settings, cabinet doors and drawers see a lot of use. Wear and tear can deteriorate the finish and damage hinges and hardware. Chances are, even though the outward appearance may look tired, the sides and backs are probably still in excellent shape. Refacing can save a lot of time and money to achieve the same results as a complete replacement. Advantages of refacing include:
Money savings – Your business will save money from having to pay for demolition and dumping of old materials, not to mention buying and paying for the installation of new cabinets.
Quicker process – You'll save time by not removing the old and installing the new, which means less disruption and downtime for your business, resulting in more productivity and revenue.
Convenient – While we complete the refacing, you'll still have access to the cabinets and their contents if you need it.
How Does it Work?
When we reface cabinets, we altogether remove the doors, drawers, and hardware from the existing fixtures. You'll have your choice of high-quality finishes to match your style and brand. We will cover any exposed ends of the cabinets to match the new doors and drawers. Our team can perform the installation for you or train your staff on preparing the cabinet boxes and installing the new drawers and doors yourselves if you prefer. Refacing includes:
Doors
Drawer fronts
Hinges
Pulls
Knobs
Brackets
We Service All Industries
Our cabinet refacing services cover various businesses and cabinets in any setting, including kitchens and bathroom vanities. We are available for any industry, such as:
Healthcare
Property Management
Senior Living
K-12 and Higher Learning
Contractor Trades