New Accent Walls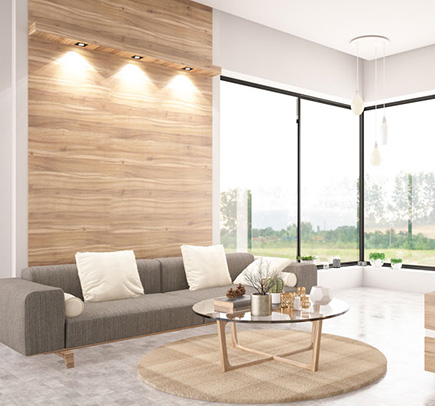 Cabinet Reface Direct Offers Simple Transformations With Accent Walls
Bring a bold, new, modern look to any room with accent wall panels installed by Cabinet Reface Direct . We offer a no-fuss, no-mess, easy installation process in residential and commercial settings without removing any existing walls. Most work is completed in one day, and you won't experience any downtime or messy construction while enjoying incredible results. Contact us for an estimate today.
Make it Exciting, Make it New
Accent walls draw attention and make bold statements in rooms. They allow for big colors without overwhelming the space while adding variety and individuality. Accent Walls installed by Cabinet Reface Direct offer more creativity and more exciting choices than paint. And the best part? There is no mess. No demolition is required as we install directly on existing walls for a quick installation with minimal disruption to your daily routine. Before you know it, your new accent wall will be the center of attention for friends and guests.
More Choices for More Style
When you work with Cabinet Reface Direct for new accent walls, you'll have more choices to work with than store-bought paneling or paint offerings. Home and business owners can choose from various colors and a variety of textures to achieve the look they want, including:
Wood
Paneling
Stone
Leather
Knobs
Solid smooth colors
Bring Life to Any Room With Accent Panels From Cabinet Reface Direct
Making improvements and dramatic changes to your home or office don't have to come with messy construction and a hefty price tag. Cabinet Reface Direct brings an alternative choice with new accent walls installed in homes and businesses throughout the Northeast. Contact us to learn more about our easy, no-mess installation process and learn how affordable making improvements can be.