Residential Cabinet Refacing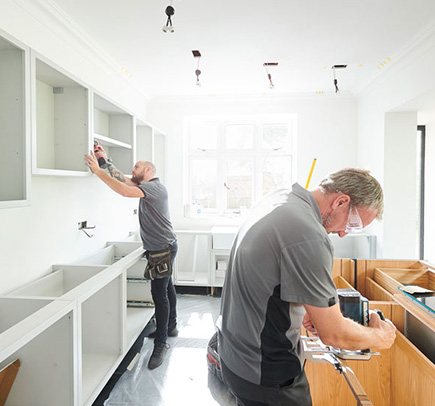 Professional Residential Cabinet Refacing
Cabinet Reface Direct specializes in residential cabinet refacing services for homeowners. Our team of trained professionals offers a budget-friendly option to give your kitchen or bath a complete makeover at a fraction of what you'd pay for new cabinets.
Looking to turn your drab bathroom or out-of-style kitchen into a modern centerpiece of attractive design? Contact us today to schedule a consultation.
Benefits of Refacing Cabinets Instead of Replacing
Even the highest quality cabinets can go out of style or start to show signs of wear on their facings, but do you need to replace an entire set of cabinets when you want to make a change? Of course not. If you're going to brighten a room with lighter cabinets or go modern with something darker, calling on Cabinet Reface Direct to reface instead of replace comes with many benefits, including:
Cost Savings – You'll save a great deal of money refacing your current cabinets instead of tearing them out and installing new ones.


Time – Our team can complete a full cabinet refacing project in much less time than replacing cabinets.


Quality – We use the highest quality products and hardware for every job. By keeping your well-made cabinets in place, we'll match the quality for years of reliability and beauty.


Prevent Waste – Keep perfectly good cabinets out of landfills by refacing and not replacing them.
The Process
Cabinet Reface Direct has dedicated sales representatives that offer comprehensive in-home estimates. Our representatives arrive with door samples and a complete array of color swatches and design options to choose from to give you the best possible pricing quote. After the sales quote is approved and signed, all doors are custom-made to match your kitchen or bathroom design specifications. A typical kitchen or bathroom reface is completed in 2-5 days, and your kitchen remains functional during the installation.
Quick & Clean Installation
On an average 10 X 10 kitchen, the installation consists of the following:
Day 1: Remove existing doors and prepping/cleaning the cabinet boxes
Day 2: Boxes are finished and new drawer fronts are assembled, and doors are hung
Day 3: Door adjustments, applying the finishing touches such as cabinet hardware and clean-up
Cabinet Reface Direct never subcontracts its work, and all our installers are trained in-house at our training facility.